Our chrome plugin and integrations engine automatically collect the developer's activity. Once per day (or even a week) the developer can convert activity tracked into real timelogs by just confirming time spent.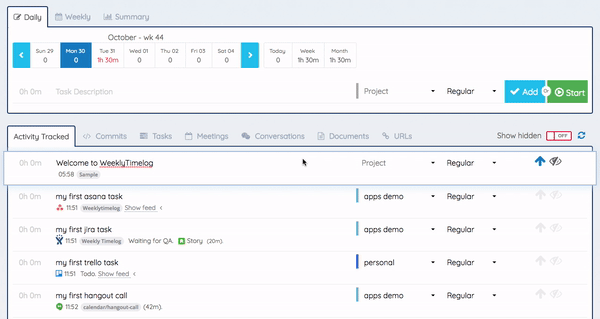 STEPS:
1. The "Activity Tracked" tab is located in the lower section of the screen, along with other tabs filtering content by type. 
2. Look at the first activity record and press CROSSED-EYE icon to hide the activity if not useful.
3. To convert the activity into an effective timelog just enter the time spent, select project and press ENTER or the UP-ARROW icon.  
    Note: project will be selected only once and the system will remember next time 
4. The new timelog will appear on the Daily tab as an effective timelog now. Weekly, monthly counters will also increase in time.